SUCCESS STORIES IN SUSTAINABLE ARCHITECTURE
Success stories in sustainable architecture
COMPAC was present at Best Practices Matter, where the central theme up for discussion was sustainability.
Best Practices Matter Barcelona promotes architectural and interior design projects by providing advice on personalized materials. It has a specialized team of professionals undergoing continuous training, an outstanding selection of materials and a meeting place designed to facilitate the materialization of new projects.
Events staged at the Best Practices Matter series aim to offer a space for dialogue in which architects can meet to exchange knowledge and experiences on projects related to themes of joint interest, sharing opinions and viewpoints, and discovering new perspectives together, thus contributing to evolution in the trade.
COMPAC has long been committed to supporting spaces of this kind allowing architecture to be more highly valued.
Nine architecture professionals gathered at the first meeting of the Best Practices Matter series contemplating Success Stories in Sustainable Architecture, to share their strategies, experiences and achievements, current challenges, emerging trends and their visions for the future.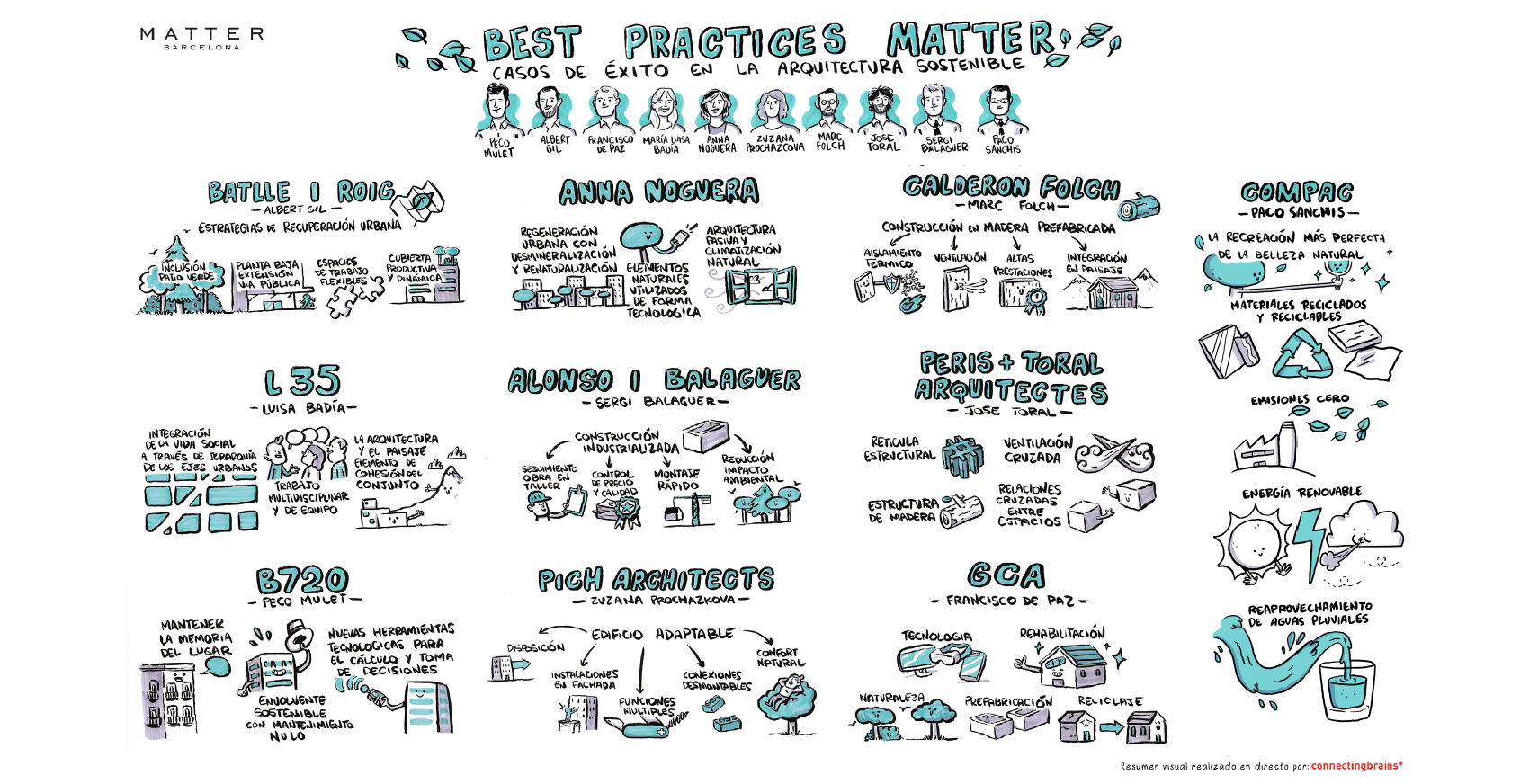 Designing by applying the principles of passive architecture, favouring ventilation and natural lighting, using natural materials and recovering pre-existing architectural elements; showing respect for the memory of a site; taking advantage of technology to optimize the use of energy; and using industrialization and prefabrication techniques to reduce work times… These are all concepts that add up to reducing environmental impact and notably increasing the health, comfort and happiness of people inhabiting these spaces being designed.
But to reduce the environmental impact of buildings, commitment from the entire construction industry is needed, as well as contributions from manufacturers of materials, which are also key in this regard. Paco Sanchis, CEO of COMPAC, explains how it is possible to give new life to materials such as Obsidiana, a decorative surface made from recycled glass, which has been awarded the Cradle to Cradle Certified for its contribution to circular economy since it is both recycled and newly recyclable:
"In our manufacturing processes we exclusively use electrical power from renewable sources in addition to reusing rainwater."

COMPAC seeks the perfect equation between material, technology, talent, art and architecture to obtain materials that are sustainable from both an economic and environmental point of view. The goal for 2030 is to create fully recycled and recyclable smart, technological products.