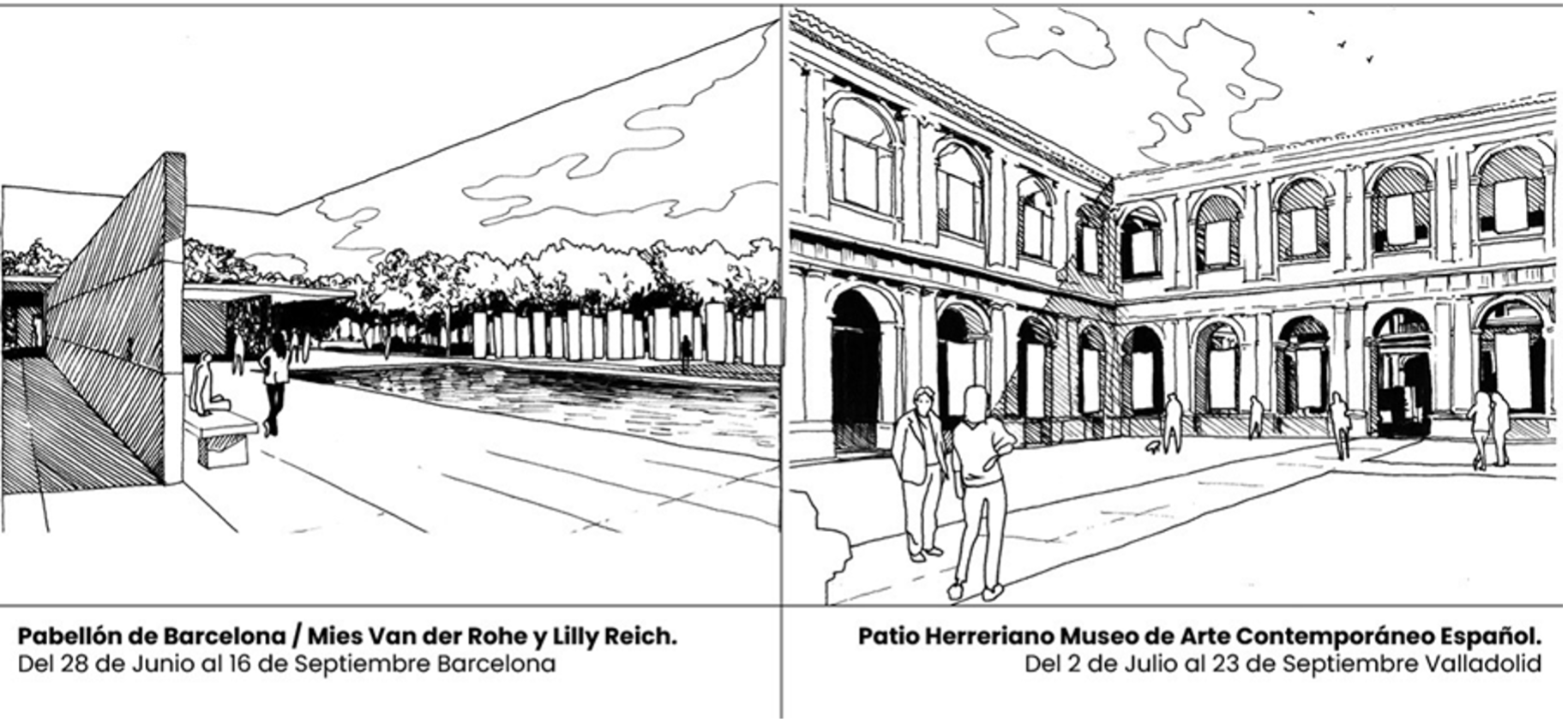 The launch of the 15th edition of BEAU (Spanish Biennial of Architecture and Urbanism) sponsored by COMPAC The Surfaces Company took place at the Mies Van der Rohe Foundation in Barcelona.
This title of this edition is Under-populated Spain / Over-populated Spain. Reconciliation strategies and will take place at two physical venues; the Mies Van der Rohe and Lilly Reich Barcelona Pavilion between June 28th and September 16th as well as the Patio Herreriano of Valladolid by Juan Ribero Rada, between July 2nd and September 23rd with a third 'virtual' setting.
The physical location will accommodate an exhibition of some of the most compelling Spanish architecture and urban projects from the preceding three years (2018 – 2020) and is being curated by a team of architects chosen from two practices, one from Valladolid and the other from Barcelona: Óscar Miguel Ares, Anna Bach and Eugeni Bach.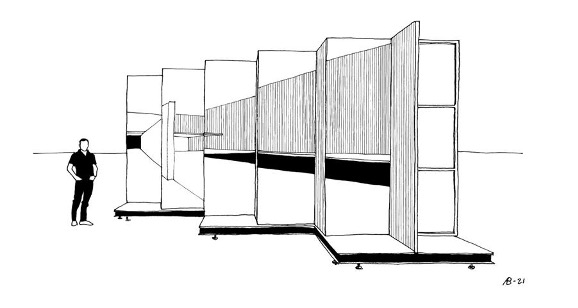 Sketch of the Patio Herreriano of Valladolid project designed by the curators Óscar Miguel Ares Álvare, Anna Bach and Eugeni Bach
THE EXHIBITION THEME CURATED BY ÓSCAR MIGUEL ARES, ANNA BACH AND EUGENI BACH
The three curators have designed an exhibition that allows the materials produced by COMPAC to be appreciated as part of its infrastructure with display installations in both venues. At the Mies Van der Rohe Foundation the exterior structures where the award winning projects are on display was created by COMPAC, the quality and versatility of the materials can easily be appreciated in their use for the different supports. At the Patio Herreriano a Mármol Bering design with a linear textured marble paving helps lead visitors through the exhibition and points them in the direction of flow in an intuitive manner. This approach also displays the specialisation of COMPAC in the production and fabrication of ad-hoc projects, customised to provide exclusive and unique quality.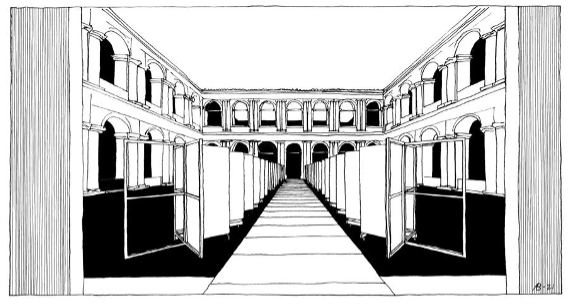 Sketch of the Patio Herreriano of Valladolid project designed by the curators Óscar Miguel Ares Álvare, Anna Bach and Eugeni Bach
STRATEGIC ALLIANCES BETWEEN COMPAC AND THE ARCHITECUAL SECTOR
This collaboration is underlined by the company philosophy, the promotion and support from COMPAC for the most important landmarks on the national as well as the international scene and thereby consolidating its links with Spain's institutional authorities. In addition we are committed to one of its most important objectives, that of making architecture and urban planning more accessible to citizens generally, as set out by BEAU (Spanish Biennial of Architecture and Urbanism).
As stated by the organisers of the 15th edition of BEAU, "this edition aims to provide a meeting point that will go beyond the strict scope of architecture and urban planning in order to highlight both their social and cultural value together with respecting and caring for these disciplines."
In the development of this edition COMPAC is helping to focus on the capacity of the various territories that exist in this country; on a Spain that is densely population and dynamics; and on the other hand one that is under-populated, more stagnant and empty. This is examined under seven themes: Territory, Society, Sustainability, Gender, Demographics, Collectivity and Economy.
"At COMPAC we love challenges and this was another one. Working in this close collaborative way with the Spanish Biennial of Architecture and Urbanism was our main objective. It is the first time that this event has been sponsored by a single company and we are very proud to have been involved. In line with our ongoing aim of forging alliances that involve activities seeking to promote architecture and construction, by setting new standards and always defined by our motto "Think out of the box". We would like to the thank everyone involved with the Biennial and my entire team for this comprehensive result that we have achieved through this involvement with the 15th edition of BEAU that perfectly reflects our values and company philosophy," according to Paco Sanchis, CEO of COMPAC The Surfaces Company.
ABOUT THE SPANISH BIENNIAL OF ARCHIECTURE AND URBANISM
The Spanish Biennial of Architecture and Urbanism (BEAU) has been around since 1991 offering a view on architectural and urban planning trends happening in Spain, with a specific emphasis not only on refurbishment, reformation and promotion in different categories but also research and development carried out in Spain into work methods, products and new technologies connected with this field. Since its first edition different activities associated directly with architecture have been integrated, organised by different institutional collaborations, a travelling exhibition that brings together those works considered of merit awarded with special prizes by the Biennial under its various categories.
The Spanish Biennial of Architecture and Urbanism is therefore conceived not only as an event but an open process over the intervening two years between editions.
http://www.labienal.es/
ABOUT COMPAC
Founded in 1975, COMPAC is the first Spanish company specialising in the manufacture and distribution of marble and quartz surfaces. COMPAC is today a large multinational company with 100% Spanish capital and a significant international presence.
Over recent years COMPAC, The Surfaces Company, has maintained a sustainable growth converting it into a reference within the decorative surfaces sector: marble, quartz and COMPAC obsidian, underscored by the opening of new international facilities in New York, Miami, England and Portugal. As well as introducing ongoing improvements and the expansion of its centres, the incorporation of new productive lines and the innovative developments within its wide selection of brands, products and collections – always true to its commitment to sustainability and innovation supporting unique design.