The company has signed professional agreements with internationally renowned institutions like the Royal College of Art and Imperial College with an eye to future innovation.
Paco Sanchis, CEO of COMPAC announces that the strategy for establishing collaborations and agreements with institutions within the architecture and design sector is one of the main objectives for 2021.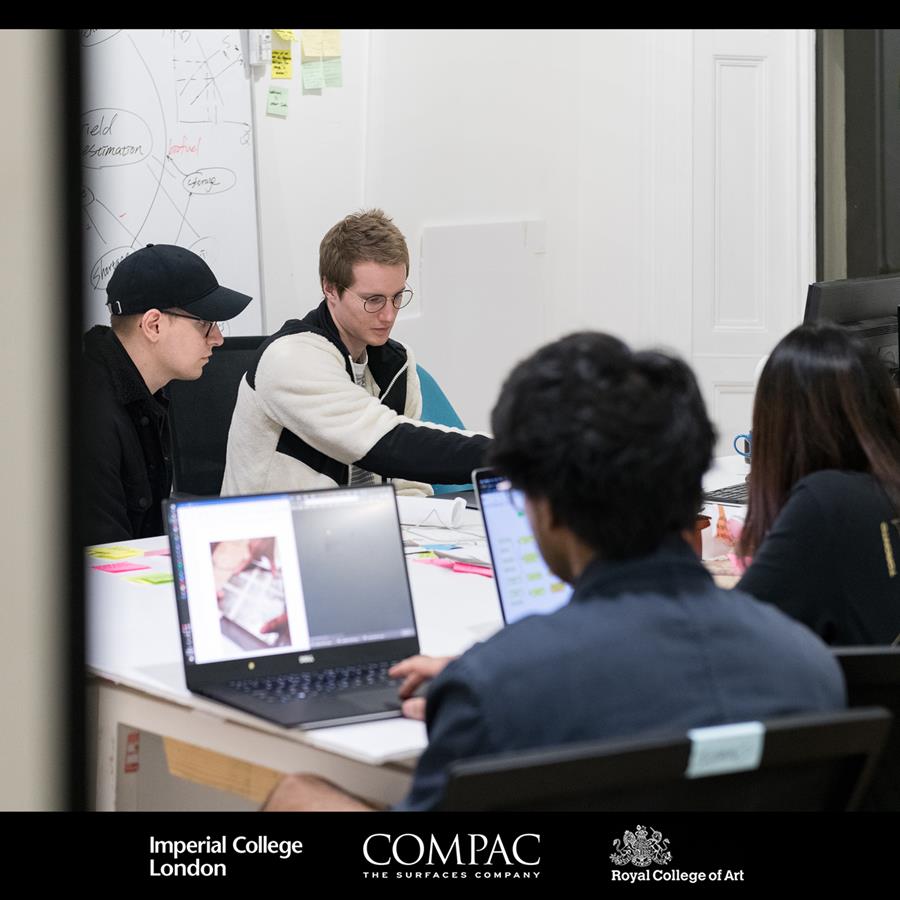 Students during the EXP module included
in the Master of Innovation Design Engineering. ©COMPAC
This year 2021 the company will be forging alliances with the most high profile organisations within the architectural and design sector, both national and international, in order to expand upon its contribution to contemporary architecture, promote innovation and support ongoing training.
· Driving innovation and the future of the industry with agreements like the one recently jointly approved with the Royal College of Art and Imperial College London, to encourage the talent of young engineers and designers of the future through promoting innovation.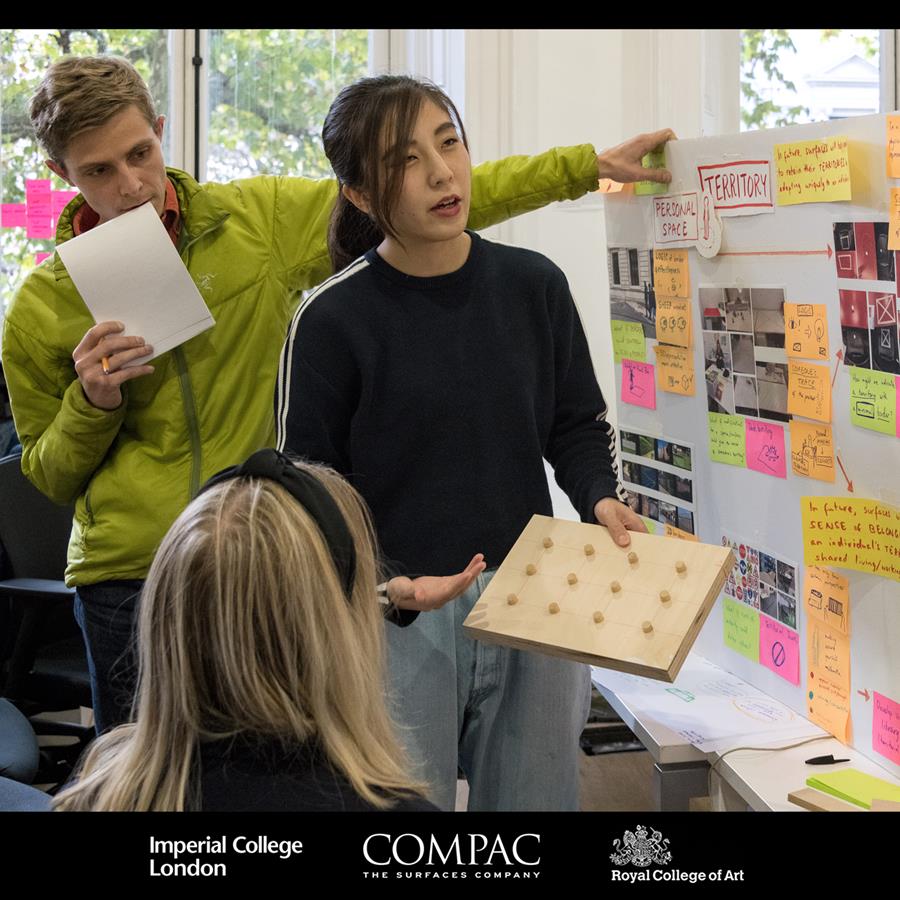 Students on its development phase creating mockups during
the EXP module included in the Master of Innovation Design Engineering. ©COMPAC
The Royal College of Art was founded in 1837 and is a research-intensive postgraduate university based in London providing students with unrivalled opportunities to deliver art and design projects that transform the world. The Imperial College London was founded in 1907 and specialises in science, engineering, medicine and business studies, some of highest profile investigative projects on the international stage have come out of there.
COMPAC for its part has more than 45 years experience as a leader in innovation within the surfaces industry and its materials have been selected by the most demanding specification writers the world over.
The two universities have developed a joint programme that includes an Experimental Design (EXP) module included within the Masters of Innovation Design Engineering. This module uses experimentation to uncover innovative ways to use new technologies, new product categories and evolving contexts.
· In this way COMPAC is demonstrating its aim to support younger generations under the motto: Surfaces for living in 2030, its challenge to adopt an experimental design focus to explore innovation in surfaces in 2030.
COMPAC aims to search out solutions that contribute to discovering the most innovative materials of the future. In the words of the programme leader Dr. Weston Baxter, Assistant professor on the IDE course at Imperial College London: "The IDE programe brings together people with varied backgrounds; students have degrees in materials, ​engineering, business, law and traditional design fields. All these people together generate this creative space that allows for innovation to come about in a real and playful way. The challenge is to make this creativity real through something that can serve industry, businesses or individuals and brings with it an added value. In this way working with companies like COMPAC means we can deepen our knowledge of industry and what client's are looking for."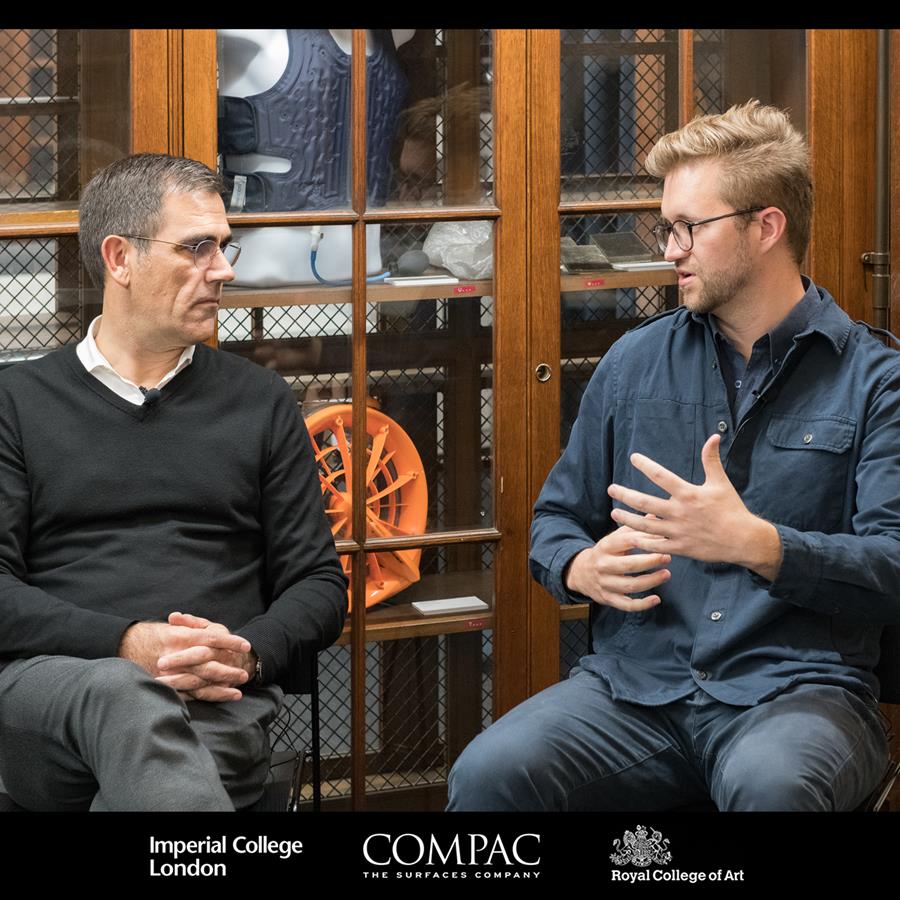 In the photo from left to right: Paco Sanchis, CEO COMPAC,
Dr. Weston Baxter, IDE Assistant Professor. ©COMPAC
The project results presented by the students were very surprising, as Paco Sanchis, the CEO of COMPAC has pointed out: ""They are very attractive projects with a lot of talent that allows us to produce intelligent surfaces using sustainable designer materials. It's important that the upcoming generations are connected and associate themselves with innovative companies who know how to apply these designs on an industrial scale."."
The most salient themes in the research projects on materials and future surfaces are concerned with: sustainability, materials that are capable of capturing CO₂ and other pollutants; improvements in the quality of people's lives, creating surfaces for people with physical limitations, with mental health issues; the improvement of shared spaces by controlling the environments; customised approaches to creating materials; creating new surfaces for storing food providing them with a new importance for nutrition; making our history better understood through memory and lived experience; storing knowledge in a more tactile way as well as; addressing questions related to infections and super-bacteria together with health issues within urban areas like those being experienced during the current pandemic, among others.
As well as the classes taught as part of the EXP module created between both universities in collaboration joining forces together, master-class sessions have also been organised given by outstanding figures such as Arik Levy, a renowned international artist and designer who has been working with COMPAC for the last five years now.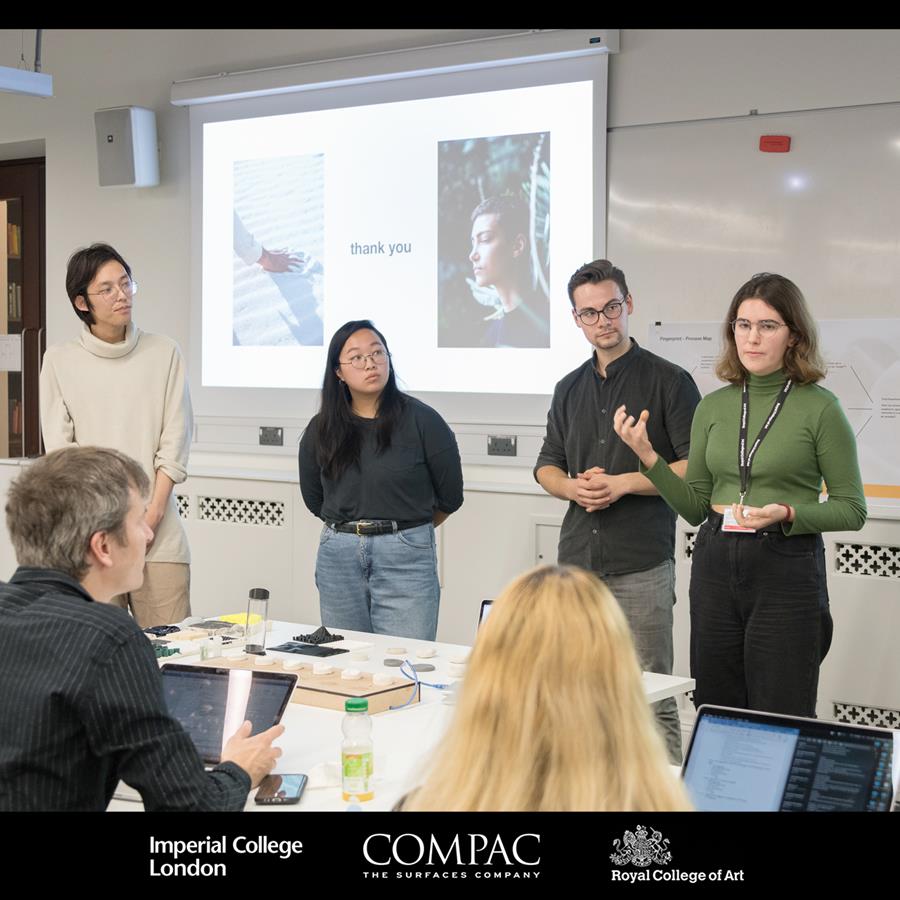 Final presentations by the students during
the EXP module included in the Master of Innovation Design Engineering. ©COMPAC
According to the statements released by Paco Sanchis, CEO of COMPAC: "This line of strategic collaboration and agreements within the best recognised architectural and design sectors, like the Royal College of London and Imperial College of London, together with the AxA and COAC Gerona, will continue to be among our prime objectives of this year 2021. The company will work in an ongoing way to achieve new alliances to continue to encourage and promote contemporary architecture and the construction of new bridges within the sector offering opportunities to younger generations."
ABOUT COMPAC
Founded in 1975, COMPAC is the first Spanish company specialising in the manufacture and distribution of marble and quartz surfaces. COMPAC is today a large multinational company with 100% Spanish capital and a significant international presence.
Over recent years COMPAC, The Surfaces Company, has maintained a sustainable growth converting it into a reference within the decorative surfaces sector: marble, quartz and COMPAC obsidian, underscored by the opening of new international facilities in New York, Miami, England and Portugal. As well as introducing ongoing improvements and the expansion of its centres, the incorporation of new productive lines and the innovative developments within its wide selection of brands, products and collections – always true to its commitment to sustainability and innovation supporting unique design.