For the 9th Edition of Wallpaper* Handmade, Spanish surfaces company COMPAC and London-based Coffey Architects have created the Stepwell Table based on India's legendary Chand Baori.
The Stepwell Table was created in response to the theme of 'Wellness & Wonder' and builds on COMPAC's ability to create technically precise patterns in manufactured quartz and Coffey Architects' passion for the intersection of light, culture and scale.
The Stepwell Table is inspired by the geometrical wonder Chand Baori, an ancient water well in Rajasthan and one of the oldest and most important landmarks in India. Below the table's glass surface is a hollowed-out interior, an intricate recreation of the famed symmetrical steps of the Chand Baori descending into the table's base, creating an optical maze of light, shadow and angles.
The scaled down and geometrically inspired design of the Chand Baori inside the table is made possible by COMPAC's technologically advanced fabrication processes. The 'stairs' of the Stepwell Table are made with COMPAC's Unique Collection, a surface of engineered quartz that is made to resemble the marble of Italian quarries. The man-made Unique Collection is longer lasting than natural stone: it does not chip or stain and is heat-resistant.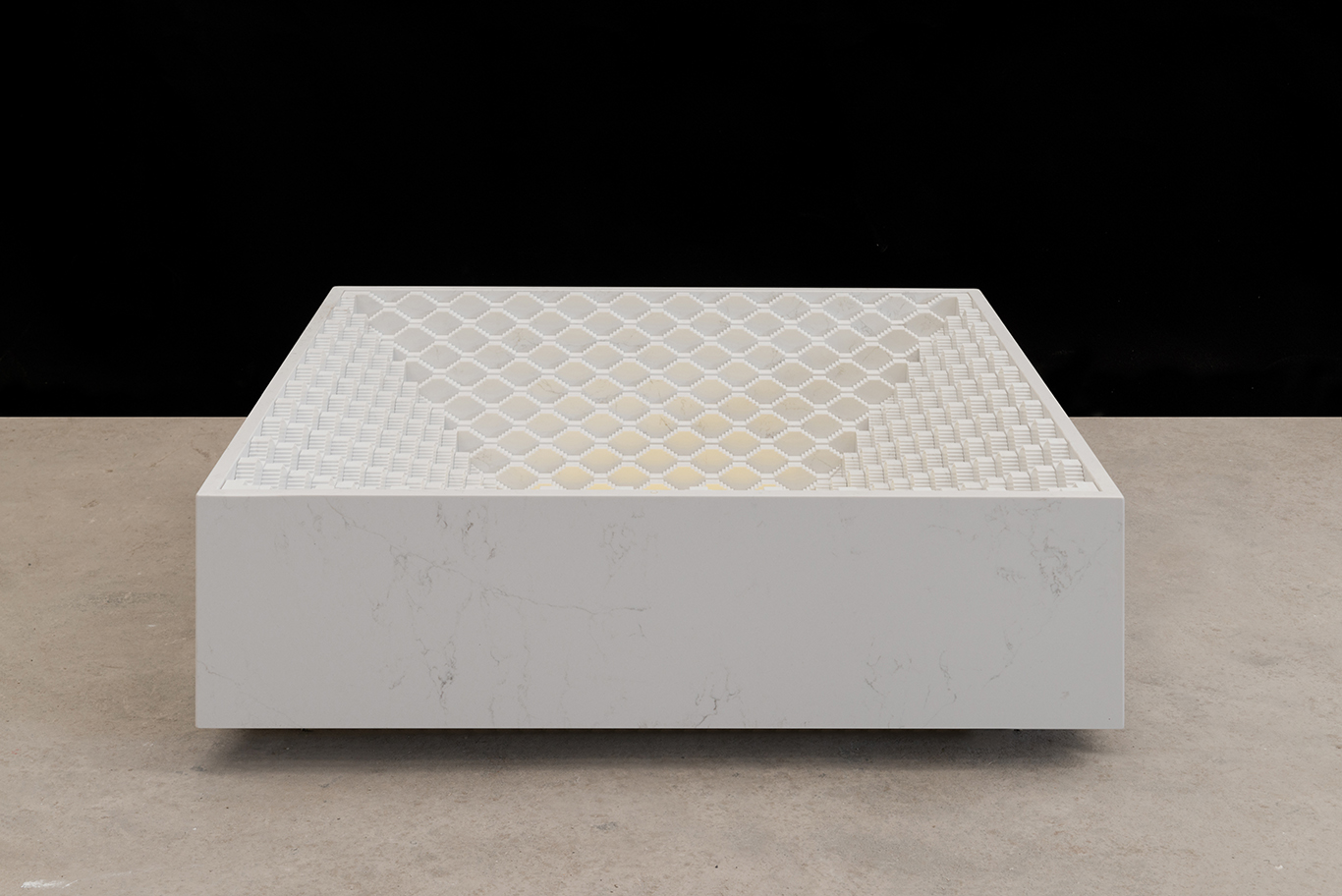 At the true Chand Baori, visitors can descend 13 levels of stairs carved into the four sides of the water well to an emerald green pool of water. To emulate the striking, translucent water at the base of the well, COMPAC and Coffey have made the base out of a thin sheet of green quartz from the Ice of Genesis Collection designed in collaboration with Paris-based artist and designer Arik Levy. The green, veined base will be illuminated from below, inviting viewers to peer inside the table towards the glowing core.
"Chand Baori is an amazing place that offers something unique for the people living in and visiting the area – but it also consists of an extremely beautiful geometry that plays with light and shadow. Inspired by this place, and the idea of creating a 'miniature' architecture that has spatial qualities, the Stepwell Table is not just about the surface, but the space within it.
"The COMPAC material presents solidity and heaviness that really helped drive the design, as did the manufacturing process. Water is an essential part of producing the quartz material, hence we focused on water as an inspiration for the concept of the table. Ultimately, we loved the challenge of designing something that relates to the theme Wellness & Wonder while also dealing with the themes we care about in architecture – light and culture." – Michael Henriksen, associate, Coffey Architects.
Wallpaper* Handmade 2018
Mediateca Santa Teresa
Brera Design District
17-22 April 2018